Another Successful Adaptive Learn To Ski Clinic For Veterans
by USA Water Ski & Wake Sports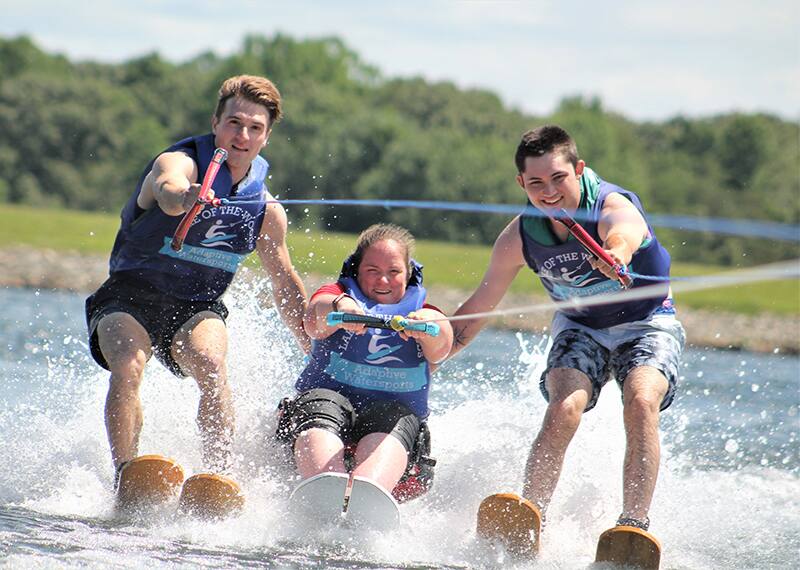 USA Water Ski & Wake Sports' adaptive sports grant from the U.S. Department of Veterans Affairs funded another successful adaptive learn to water ski clinic for veterans with disabilities on Saturday, June 18 at Lake of the Woods in Locust Grove, Va. The clinic was hosted by Lake of the Woods Adaptive Watersports Foundation, a USA Water Ski & Wake Sports member club. Veterans and service members along with their families were invited to the event. The clinic provided veterans and service members with various disabilities a chance to try water skiing and various other adaptive water activities in a fun and safe way.
Several boats were used to pulled veterans in sit skis from 10 a.m. until 3 p.m., meaning each veteran in attendance had the opportunity to ski multiple times. Each sit skier was flanked by two side skiers for stability and safety. A few participants had tried adaptive water skiing before but for most participants it was their first time water skiing.
Multiple veterans discussed the positive impact of the event.
Army Combat veteran Amanda Foor served in Operation Iraqi Freedom. Foor was grateful for the opportunity to sit ski since leaving the Army and having multiple knee surgeries. When asked if she would recommend adaptive water skiing to other veterans she gave water skiing "Ten out of ten stars and recommends all veterans come to adaptive water sports."
Eric Hoar, an Army veteran, also got back out on the water for the first time since being paralyzed 10 years ago. Hoar credited the Lake of the Woods Adaptive Watersports Foundation's volunteers for helping him get back in the water and also mentioned how the event brings people together. "Events like this are not only about getting in the water and skiing it is about meeting people and talking to people with shared experiences; it is being part of a community and building a support network."
Air Force veteran Sarah Bonner first tried skiing at a Lake of the Woods Adaptive Watersports Foundation event in 2018 and has been hooked ever since. Bonner echoed Hoar's sentiment crediting Lake of the Woods Adaptive Watersports Foundation and how the sport has helped her find a community. Bonner said she loves "the speed, the fun, and the feeling of the wind in her hair" when water skiing and she enjoys challenging herself and taking skills from water skiing into the other adaptive sports she participates in.
The passion for adaptive water skiing was easily evident in all the volunteers who made the event possible. Jordy de Boer, President of the Foundation and Simon Gray, Secretary of the Foundation, both said they are passionate about adaptive water skiing because they have seen firsthand the positive impact it can have on participants' lives. Gray encourages other USA Water Ski & Wake Sports clubs to think about hosting adaptive events to give back to their communities. This was the seventh year Lake of the Woods has hosted an adaptive watersports event for veterans. Lake of the Woods Adaptive Watersports Foundation is looking forward to more events this summer and well into the future.
USA Water Ski & Wake Sports has more adaptive learn to water ski events for veterans this summer. Additional clinic locations and dates are as follows: Pohick Bay, Va., July 8; Oroville, Calif., July 16 & 17; Harmony, N.C., July 30; Sandy Run, S.C., Aug. 6; Twin Lakes, Wis., Aug. 8; and Perham, Minn., Aug. 8. For a comprehensive list of locations and dates, and info on how to register, please visit https://www.sharelifeonthewater.com/cliniccontacts.html. As part of the grant program, USA Water Ski & Wake Sports will also be awarding a minimum of 10 veteran adaptive water ski athletes funding to purchase relevant 3-event competition adaptive water-ski equipment up to a $9,500 value for participation.
The 2022 Disabled Veteran Athlete Equipment Grant is funded by the United States Department of Veterans Affairs. The opinions, findings and conclusions stated in this article do not necessarily reflect those of the United States Department of Veterans Affairs.
USA Water Ski & Wake Sports is affiliated with the International Waterski & Wakeboard Federation (world governing body) and is recognized by the United States Olympic and Paralympic Committee and Pan-American Sports Organization as the national governing body of organized water skiing and wakeboarding in the United States.