Jaquess Undergoes ACL Surgery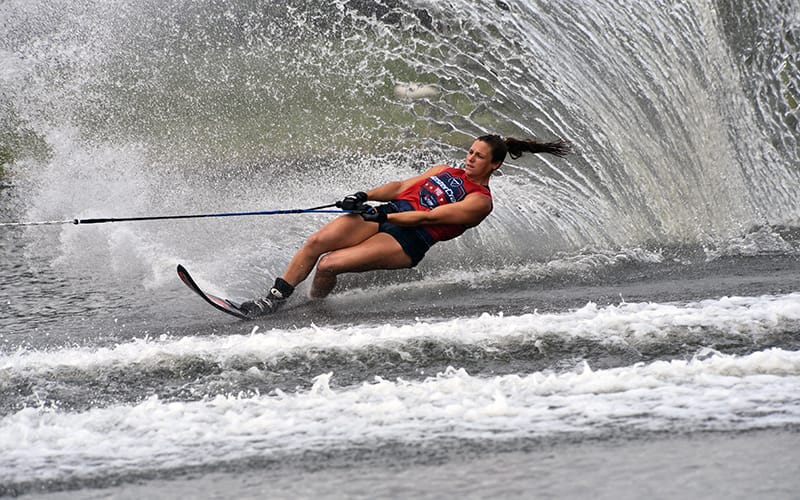 U.S. water ski athlete Regina Jaquess underwent surgery for a torn ACL on her right knee on Thursday afternoon in Birmingham, Ala. Dr. Lyle Cain Jr., of Andrews Sports Medicine & Orthopaedic Center, performed the surgery.
Speaking by telephone on Friday morning, Jaquess said she will begin physical therapy immediately and has not ruled out competing in slalom at the IWWF Water Ski World Championships in October. "I want to try to slalom this year," she said. "It all depends on how I respond to the rehab. But I think we're looking at anywhere between four and six months."
The news of Jaquess' injury came just days before the 61st Nautique Masters, where Jaquess was the favorite this year to win women's slalom and jump. "I was really, really looking forward to competing in the Masters," Jaquess said. "I had been skiing so well. But I am determined to get back as quickly as possible."
The tournament will now be without three of the sport's biggest stars. Defending men's jumping champion Ryan Dodd (Canada) announced last week that he would be unable to compete due to an ankle injury, and defending women's jumping champion Jacinta Carroll (Australia) was unable to make the trip to the United States due to travel restrictions related to COVID-19.
The 2021 IWWF Water Ski World Championships is scheduled for Oct. 11-17 at Jack Travers' International Tournament Skiing and Sunset Lakes in Groveland, Fla.
Scott N. Atkinson is the Senior Director of Communications & External Relations for USA Water Ski & Wake Sports, and Editor of The Water Skier magazine, the official publication of USA Water Ski & Wake Sports.