Little Crow Ski Team Wins NSSA Midwest Regionals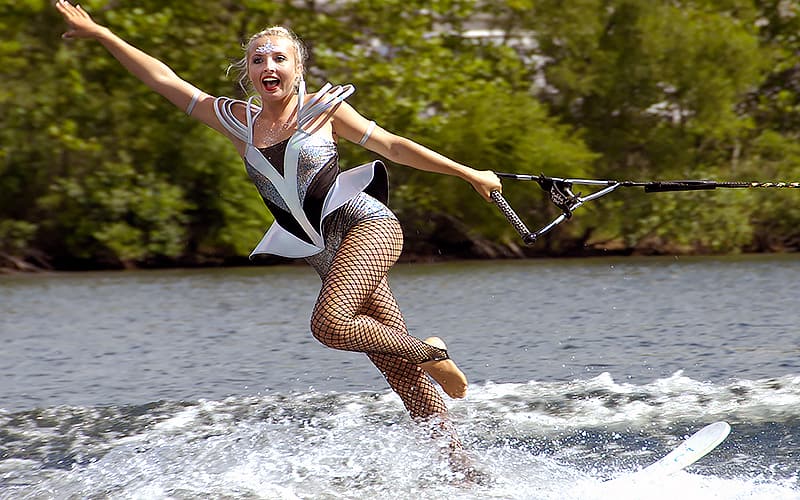 Caroline Grubs won the swivel title at the 2021 NSSA Midwest Regionals, scoring 16.76 points. File photo by Lynn Novakofski.
The Little Crow Ski Team (New London, Minn.) won the team title at the 2021 Midwest Regional Show Ski Championships, July 23-25, at Dahme Lake in Aberdeen, S.D.
Little Crow earned high-scoring awards for sound crew total, jump and pyramid on the way to tallying a grand total 1,617.67 points. The Aberdeen Aqua Addicts (Aberdeen, S.D.) placed second with 1,548.73 points and the Waterhawks (Evansdale, Iowa) finished third (1,410.3 points).
In competitive show skiing, each club has one hour to present a theatrical performance on water skis. Judges score acts by awarding points based on originality, presentation and execution. Elaborate costumes and staging intermix with music and fast action on the water as an announcer leads the audience through the show.
In addition to the team competition, athletes competed for individual titles in swivel, doubles, freestyle jumping and team jumping. Winning titles in the Division 1 Open divisions were: Caroline Grubs, swivel (16.76 points); Sarah Yost and Ryan Hoops, doubles (15.44 points); Noah Leach, freestyle jumping (624.83 points); and Little Crow, team jumping (55.41 points).
The National Show Ski Association (NSSA) is one of nine sport discipline organizations affiliated with USA Water Ski & Wake Sports.
Scott N. Atkinson is the Senior Director of Communications & External Relations for USA Water Ski & Wake Sports, and Editor of The Water Skier magazine, the official publication of USA Water Ski & Wake Sports.