Honoring Women's History Month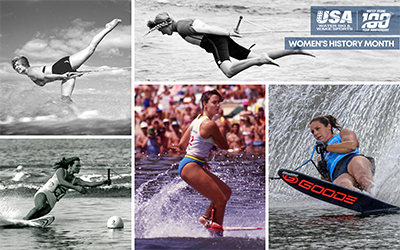 Capping off Women's History Month, USA Water Ski & Wake Sports is proud to acknowledge the accomplishments of its past and present female water ski athletes. In honor of Women's History Month and the centennial celebration of water skiing in 2022, here are five female athletes who have had an enormous impact on the sport of water skiing and USA Water Ski & Wake Sports over the past 100 years. These five, along with dozens more, will be among the 100 Greatest of 100 Years to be featured in a special issue of The Water Skier magazine later this summer.
Willa Worthington-Cook
When Willa Worthington-Cook came East from her home in Lake Oswego, Ore., in 1946 to enter her first Water Ski National Championships at Holland, Mich., the organized sport was just emerging into true national status. She won the slalom, tricks and overall titles to launch a tournament career that was equaled only by her years as water skiing's most talented show skier. Until her retirement from active competition in 1955, Willa won the overall crown in eight of the nine Nationals she entered. She picked up 18 national event titles and never lost in tricks at the Nationals. She scored a rare "clean sweep" of all three events in the 1949 and 1951 Nationals. She represented the U.S. at four world tournaments - in 1949 at Juan Les Pins, France; 1950 at Cypress Gardens; 1953 at Toronto, Canada, and 1955 at Beirut, Lebanon. She won the overall title three times and scored five world event victories in the process. Her show career began in earnest in 1947, when she organized the Lake Oswego Water Ski Club and encouraged the members to form a traveling ski show that played at festivals. A ballet routine she developed became the most popular act in the show. Word of her talent spread, and in 1948 Dick Pope invited her to join the Cypress Gardens Show to perform as prima ballerina and teach his aquamaids. She continued as the show's star attraction for 10 years, all the while designing costumes, choreographing routines, directing films, performing in numerous motion picture and TV Productions, and teaching water skiing to many young hopefuls who later became champion tournament skiers as well as show stars. She was the first to employ a musical background for show skiing. She was part of the inaugural class of the USA Water Ski & Wake Sports Foundation Hall of Fame in 1982 and the inaugural class of the IWWF International Hall of Fame in 1989.
Lori Powell-Drell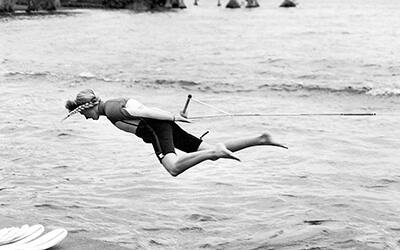 Lori Powell-Drell was arguably the most versatile female water skier of all time, competing and holding national titles in both the three-event and barefoot divisions and world titles in barefooting. Her significant barefoot accomplishments span eight years and four world championships, culminating in her 1988 women's world overall title. Five of those years she also competed at the national level in traditional three events. Though women's world overall champion only once, her numerous national and world titles and records advanced the sport and contributed to the U.S. Elite Barefoot Water Ski Team's effort at each of the four world championships. She was 11 years old when she was an alternate to the 1980 U.S. Elite Barefoot Team and 13 years old when competing on the 1982 team. At the 1982 world championships, she was the first to unseat the Australians' hold on female world titles. Her performances at the 1986 Worlds helped the United States unseat Australia from its hold on the world championships title. At the end of the 1986 season, a tumor was discovered on Lori's spine. After major surgery to remove the tumor, Lori had to significantly limit her training for the 1987 season and focused on rehabilitation with physical training. But she came back to reach her peak and her goal of winning the women's world barefoot overall title at the 1988 Worlds. What made the 1988 victory even more meaningful was that her brother, Rick Powell, won the men's overall title. They remain the only brother and sister to have won the men and women's overall titles in the same world championships. She was inducted into the USA Water Ski & Wake Sports Foundation Hall of Fame in 1999 and is a 2022 inductee of the IWWF International Hall of Fame.
Regina Jaquess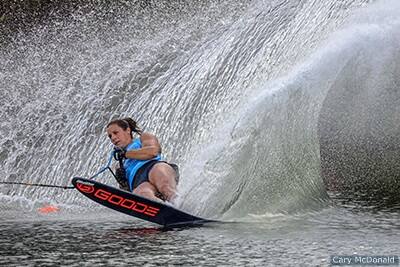 Over the last 25 years Regina Jaquess has dominated women's water skiing like no other. An extremely strong overall skier and the greatest female slalom skier of all time, Jaquess has won 10 IWWF world championship titles, spread across slalom, tricks and overall. Add to this her nine Moomba Masters titles and eight U.S. Masters titles and the fact she has held the IWWF world slalom record for 11 years and the overall record for 3 of the last 25 years. She was recently named the IWWF's top female water ski athlete of the past quarter century (1995-2019).
Kristi Overton-Johnson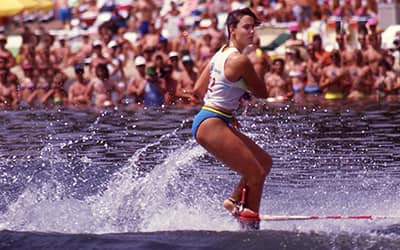 Kristi Overton-Johnson won nearly every women's slalom title imaginable, including the 1999 Pan American Games and Water Ski World Championships. She dominated professional water skiing since turning pro in 1983 when she competed in her first Masters Water Ski Tournament. She was a four-time U.S. Open champion and six-time Masters' champion. Her final professional victory came at the 2002 Masters. Prior to her Masters' debut, Overton-Johnson dominated the junior ranks, setting records that were still in existence two decades later. She won her first Masters' tricks title in 1985 and climbed her way to the No. 1 ranking in the world in the tricks event before becoming a slalom specialist in 1989. Her greatest achievement was winning the 1999 women's world slalom title. "The defining moment of my career was definitely winning the Worlds in 1999," Overton-Johnson said upon her retirement. "[The world title] had eluded me for so long. I had just been through so many injuries. I realized how fortunate I was to be on top of that podium when it was over. I looked out and saw my dad and my husband and so many incredible faces. It was such a wonderful feeling." Overton-Johnson set a new women's world slalom record of 4 buoys at 39-1/2 feet off in August 1996 and increased it to 1 buoy at 41 feet off in September 1996. She was the sole owner of the world record for the next 12 years until it was tied by Australia's Karina Nowlan in 2008 and U.S. athlete Regina Jaquess in 2009, and eventually surpassed by Jaquess in 2010. Overton-Johnson was inducted into the USA Water Ski & Wake Sports Foundation Hall of Fame in 2013 and the IWWF International Hall of Fame in 2017.
Liz Allan-Reid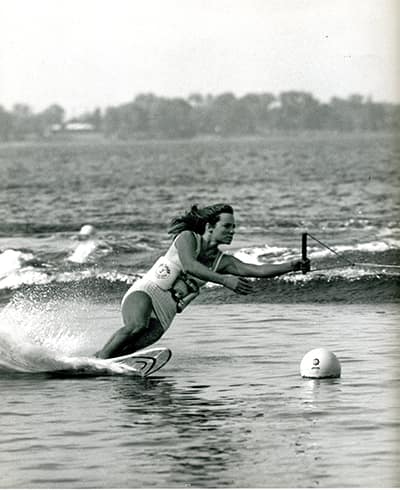 From the time she won two events in her fist national championships at the age of 11 in 1962, Liz Allan-Reid had amassed a competitive record that probably will never be matched by another skier, male or female. In 13 seasons, she won 42 national titles and never failed to win at least two in any year. Three times she made a clean sweep of all three events in the Nationals, once in Junior Girls, once in Women's competition and a third time after creation of the Open division. In 1969, she won all three events at the Nationals, the world championships and the Masters, a feat almost without parallel in any sport. Those first Nationals victories were scored on Robin Lake at Callaway Gardens, a course she was destined to claim as her very own. After warm-up tries in her first two Masters in 1964 and 1965, she proceeded to win the overall title every time she entered this most prestigious of water skiing's invitational events, nine times in all. "Ski Miss in a Hurry," an article on Liz published in the April-May 1965 issue of The Water Skier, proved to be prophetic. The 14-year-old not only breezed through the U.S. Team Trials but hurried off to Australia and the world championships, returning with the women's overall and jumping titles. It was the first of her three world overall championships, and launched her remarkable international career that included eight world event titles. She entered her first tournament in 1961, finishing second in slalom and fourth in tricks. Tournament officials wouldn't permit her to enter jumping because she was too small. A year later, she met a Junior Girls national record of 66 feet. Jumping quickly became her favorite event, and she demonstrated her enthusiasm by setting one record after another. She broke her own junior record twice in 1963, first at 70 feet, then 79 feet. The following year, she established a new Girls Division standard at 100 feet, to become the third female skier in history to join the Century Club. She raised this record to 106 feet at the 1966 Masters. Her string of record-breakers in Women's competition included cracking the 110-foot "barrier" in the 1968 Masters and yet another "impossible" mark for women at 125 feet in the 1974 Nationals. She won slalom six times and tricks on three occasions at the Masters. From the time she entered Women's competition in the Nationals in 1968, she won five slalom titles and seven tricks titles prior to her retirement in 1975. She was inducted into the USA Water Ski & Wake Sports Foundation Hall of Fame as part of the inaugural class in 1982 and the IWWF International Hall of Fame in 1991.


Scott N. Atkinson is the Senior Director of Communications & External Relations for USA Water Ski & Wake Sports and Editor of The Water Skier magazine, the official publication of USA Water Ski & Wake Sports.