Nelson Sets Women's A2 World Slalom Record
by USA Water Ski & Wake Sports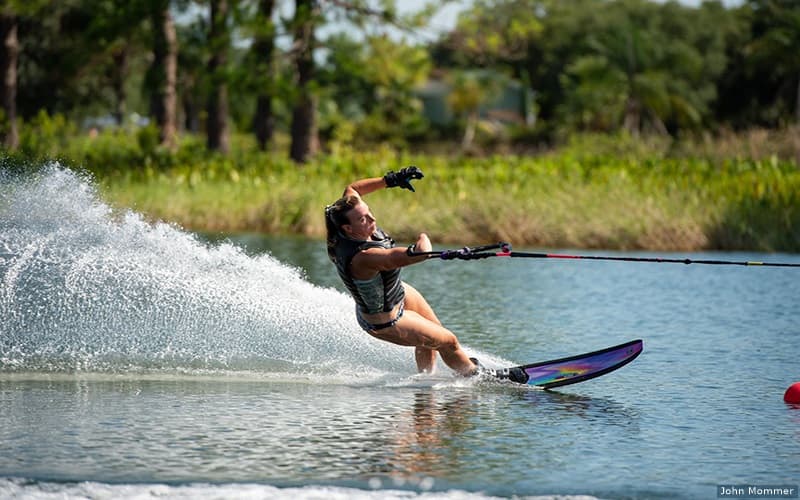 Elisha Nelson set a Women's A2 world slalom record on Aug. 27 at the California Pro Am. Photography by John Mommer.
U.S. adaptive water ski athlete Elisha Nelson (Woodland, Calif.) set a Women's A2 world slalom record on Aug. 27 at the California Pro Am in Elk Grove, Calif. Nelson's new record of 1-1/2 buoys, 52k (32mph), 18.25 m line (15' off) beats the old record by 3-1/2 buoys.
Nelson went on to break the Women's A2 National Jump Record on Sept. 6 at the Shortline Lake Labor Day Record in Elk Grove, Calif. Nelson bested the record she set on June 12, 2021 in Rio Linda, Calif., by a foot. The Women's A2 national jump record is now 33 feet/10.3 meters. Nelson currently holds Women's A2 national records in slalom, tricks and jumping.
Nelson was born with a congenital arm amputation between her elbow and her wrist. Nevertheless, she set her records in the Women 3 division, competing against able-bodied women aged 35-44.
When competing in adaptive tournaments, Nelson skis in the A2 category, classified as those having a hand or arm disability preventing them from holding the handle normally. In contrast to the A1 category, the disabled upper limb may come in contact, directly or indirectly, with the tow handle or tow line while the skier is in the course. Athletes skiing in this category use the same equipment as able-bodied skiers and have the option of using a prosthesis.
Nelson will be competing at the 2022 U.S. Adaptive Water Ski Nationals and Team Trials, Sept. 14-17, 2022, in Paducah, Ky., vying to earn a coveted spot on the USA Adaptive Water Ski Team. Team USA, reigning world champions, will compete at the 2023 IWWF World Disabled Water Ski Championships in March 2023 at the Bridgewater Ski Club in Victoria, Australia.
For more information on adaptive water skiing, visit usaadaptivewaterski.org.