USA-WSWS Awarded Sports 4 Life Grant
by USA Water Ski & Wake Sports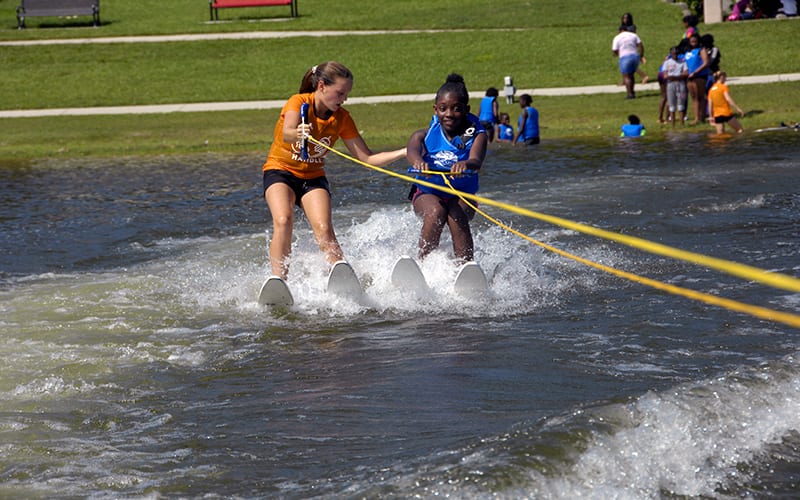 USA Water Ski & Wake Sports is pleased to announce it has received a Sports 4 Life grant from the Women's Sports Foundation. The Sports 4 Life program, cofounded by the Women's Sports Foundation and espnW, is a national initiative to increase sports participation and retention of African American, Native American and Hispanic girls. A total of $294,000 has been awarded to 42 organizations across 23 states, including Washington, D.C., helping to fuel and diversify sports opportunities expected to serve nearly 8,000 across 31 traditional and non-traditional sports.
Sports 4 Life supports programs that help girls in four foundational areas – leadership, confidence, self-esteem, and perseverance – fostering girls' physical and emotional health and academic success.
USA Water Ski & Wake Sports began addressing these important areas of girls' development in 2019 through its Get on the Water, Girls Learn to Ski Program with Girls Inc. of Winter Haven, and with the assistance of the Cypress Gardens Ski Team. "Our mission is inspiring all girls to be strong, smart and bold and this definitely falls into that mission," said Peggy Threlkel, executive director, Girls, Inc. of Winter Haven.
A recap video of the 2019 program can be viewed at https://www.youtube.com/watch?v=JQuVj3A3eNY&t=4s.
As part of the celebration of the 100th anniversary of the sport of water skiing in 2022, USA Water Ski & Wake Sports is expanding the program to include both the Winter Haven and Lakeland communities, enlisting the help of the Central Florida Show Ski Team. Instruction and practice are conducted both on dry land and behind the boat. By the end of the program, the participants will have had the opportunity to participate in and master skills in a sport which many youths will never have an opportunity to try. The girls who participate in the program form strong, new friendships and support from the local ski community and ski clubs, enabling them to continue participating in the sport.
USA Water Ski & Wake Sports is currently seeking additional support of this program expansion from local organizations and industry partners.
"We are honored to be one of the 42 organizations receiving a 2021 Sports 4 Life grant from the Women's Sports Foundation and espnW," said Nate Boudreaux, executive director of USA Water Ski & Wake Sports. "Our program strives to create and expand developmental youth sports programs. The goal is to increase participation and retention of African American and Hispanic girls in sports."
Sports 4 Life was co-founded by WSF and espnW in 2014 based on the knowledge that while sports participation offers tremendous life-long benefits – from improved physical health and self-esteem, to better grades in school and enhanced leadership skills – girls of color are disproportionately excluded. The program seeks to close the gap by strengthening and expanding the opportunities for sports participation available to young girls of color. With the knowledge that Native American youth are disproportionately impacted by poverty, inadequate healthcare, along with a higher risk of obesity, WSF has expanded Sports 4 Life to serve Native American girls, including American Indian and Alaska Native communities. Additional funding provided by Morgan Stanley, The Walt Disney Company and the Katie & Perrie Fund is allowing Sports 4 Life to support 42 organizations this year, which will reach 7,898 girls — 87% of whom identify as Black or African American, Hispanic or Native American.