New Year's Day Barefoot Tournament To Kickoff Water Skiing's Centennial
by USA Water Ski & Wake Sports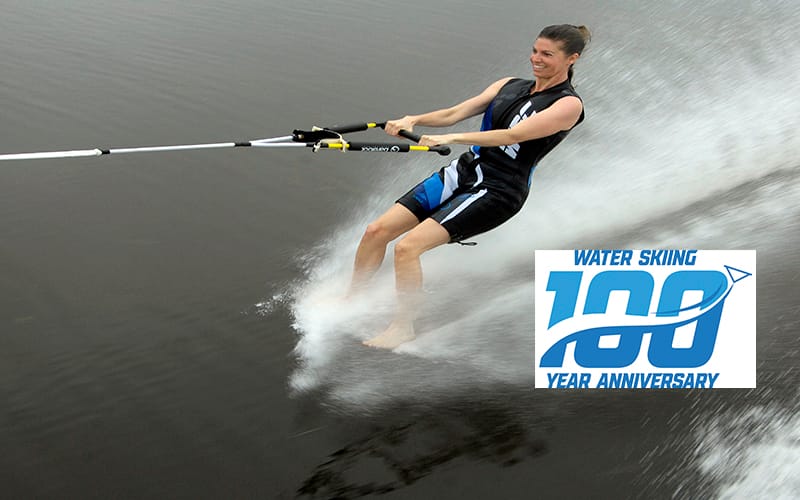 In 2020, Rachel Normand became the first female to win the Lake Norman New Year's Day Barefoot Tournament.
The 44th Annual Lake Norman New Year's Day Barefoot Tournament will be held Saturday, Jan. 1. Held annually at Lake Norman Marina in Sherrill's Ford, N.C., and hosted by the Carolina Show Ski Team, it is one of the longest running and unique barefoot skiing tournaments in the world. Due to Covid-19, 2021 was the first year in the event's history it had not been held. This year's tournament is also special in that it is the first water ski event in 2022, which is the 100th anniversary of water skiing.
What makes the tournament unique is that it combines barefoot starts, tricks, and endurance skills in one single ride. Contestants receive points for the degree of difficulty of their starting method (flying dock start, backward dock start, etc.), degree of difficulty of any tricks they perform (one foot, tumble-turns, 180 degree turns) and one point for every second they remain on their bare feet.
About 25 to 30 barefoot water skiers are expected to compete, coming from as far as Florida and New Jersey.
In 2019, two-time world barefoot champion Keith St. Onge broke the long standing course record set by Mooresvile, N.C., resident, Jeff Blair. Other barefooting legends who have competed in the tournament include Ron Scarpa, Peter Fleck and Rachel Normand. In 2020, Rachel Normand became the first female to win the event.
"We are pleased to once again host this tournament which provides a fun mid-winter event for barefoot skiing enthusiasts and an interesting event for the greater Lake Norman area to enjoy on New Year's Day." said Mark Kale, owner of Lake Norman Marina.
Admission is free, and concessions will be available on site. More information can be found on the event Facebook page.
The Carolina Show Ski Team is a 501C3 non-profit organization based out of Tega Cay, S.C., whose mission is to promote water skiing and water safety. During the summer they provide ski shows every Friday night at Windjammer Park.
Founded in 1974 and located at 6965 North Carolina 150 East, Sherrill's Ford, NC 28673, Lake Norman Marina provides boat sales, service, storage, rentals and the Lake Norman Boat Club.