2021 Virtual Challenge, Presented by Indmar & Connelly
by USA Water Ski & Wake Sports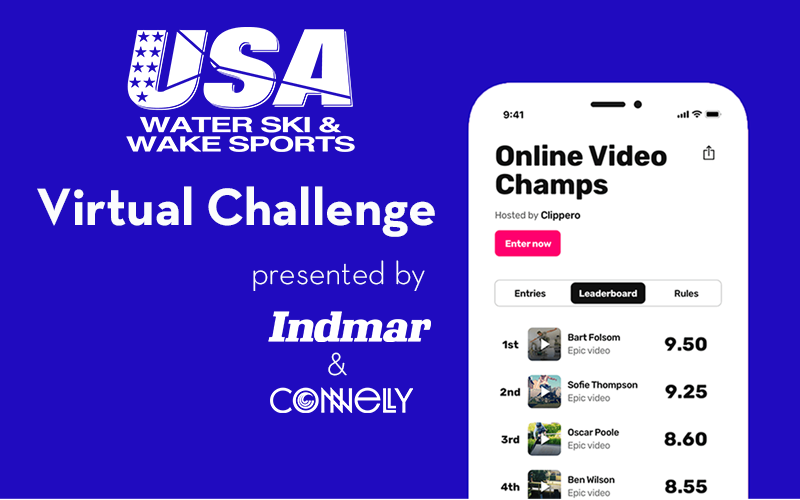 With summer in full swing and everyone back on the water, the USA Water Ski & Wake Sports Virtual Challenge, presented by Indmar Marine Engines and Connelly Skis, has returned. The challenge begins on Aug. 18 and closes on Sept. 30.
Submit a video clip of your best air, coolest trick, biggest spray or most insane wipeout. The videos will be judged on a simple 1-10 scale by a panel of professional athletes and other leaders in the water sports community. A leaderboard of the top scores will be displayed and the overall winner will receive a Connelly Shift 2 Tube, Turboflator pump and an 8 Foot Party Cove Island (grand prize valued at over $1,000).
Judging will be complete on Oct. 5, 2021 by 11:59 p.m.
To enter:
• If under the age of 18, have your parent/guardian submit your clip on your behalf
• Click Enter challenge
• Log in or create an account in Clippero
• Upload entries/clips from your device, provide a name for each clip, and submit
• Maximum of 3 entries per participant
• Once the videos are uploaded and processed, you're in
• Each entry/clip will be scored by our judges. Judges will view each entry and provide a score between 0-10. Once all judges scores are entered, the average will be shown on entry and placed on the leaderboard
All video submissions must be received by Sept. 30, 2021 at 11:59 p.m. EDT.