U.S. Athletes Montavon, Smith Win Miami Pro Slalom Titles
by USA Water Ski & Wake Sports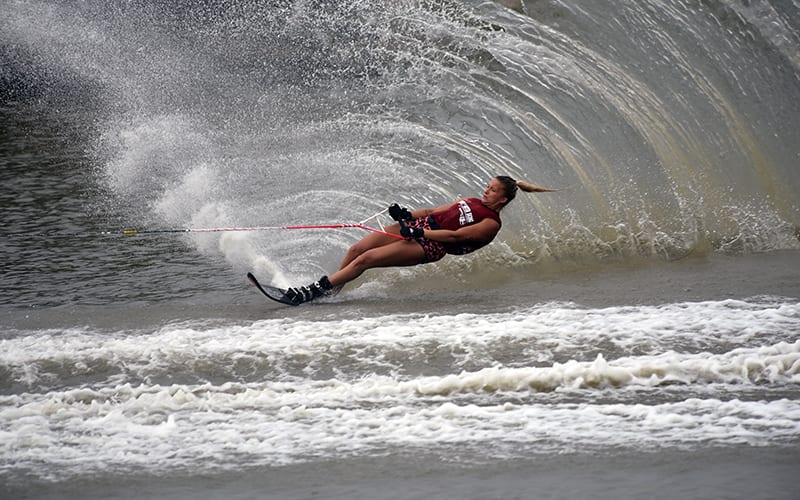 Elizabeth Montavon won her her first career professional women's slalom title.
U.S. water ski athletes Elizabeth Montavon (Lake Worth, Fla.) and Nate Smith (McCordsville, Ind.) won titles in respective events at the 2021 Miami Pro Slalom, Nov. 13-14, at the Greater Miami Ski Club in Doral, Fla. It was Montavon's first career professional victory.
Montavon defeated fellow U.S. athlete Regina Jaquess (Santa Rosa Beach, Fla.) in a thrilling runoff for the women's slalom title. After both skiers tied with 3 buoys at 39-1/2 feet off in the finals, Montavon scored 1-1/2 buoys at 39-1/2 feet off to Jaquess' 1-1/4 buoys at 39-1/2 feet off in the subsequent runoff. U.S. athlete Samantha Dumala (Wellington, Fla.) finished third (2 buoys at 39-1/2 feet off).
Smith won the men's slalom title, scoring 1 buoy at 43 feet off in the finals. Great Britain's Will Asher finished second (4 buoys at 41 feet off) and U.S. athlete Dane Mechler (Davidson, N.C.) was third (3-1/2 buoys at 41 feet off.
The Greater Miami Ski Club is one of the oldest ski clubs in the nation with 5 slalom courses, one jump canal and an open lake for tricks and wakeboarding. It was founded in 1955 and in 1961, the club organized the first Greater Miami Open and has held many USA Water Ski & Wake Sports sanctioned tournaments every year since.
The Miami Pro Slalom was the last Water Ski Pro Tour event of 2021. The cash-prize purse was equally divided between Open Men and Open Women with $13,000 offered in each division among the top-five placements.
A live webcast of the tournament was available via The Waterski Broadcast Company.