Get On The Water Week Set For July 2-11
by USA Water Ski & Wake Sports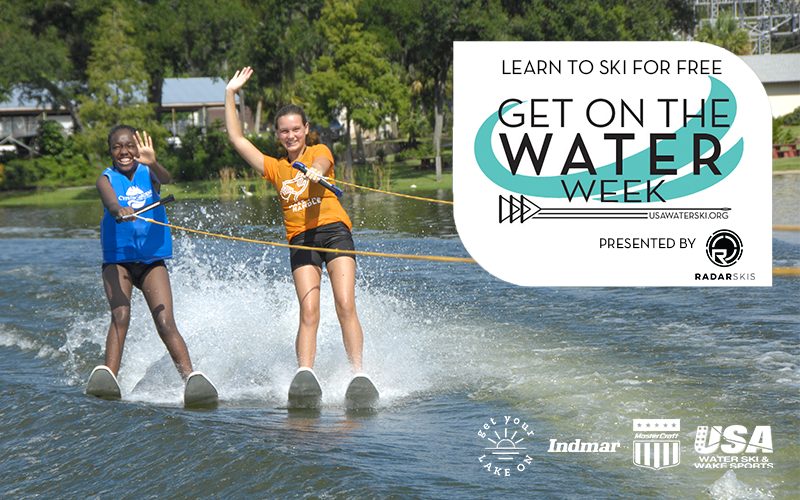 USA Water Ski & Wake Sports, along with ski clubs across the country, will host free learn to ski events. USA Water Ski & Wake Sports recognizes that financial limitations often hinder participation in towed water sports. Get on the Water Week, coinciding with the anniversary of Ralph Samuelson being the first to successfully water ski on July 2, 1922, was designed to provide a fun, non-intimidating environment in which participants can learn to water ski for free. Get on the Water Week as a coast-to-coast initiative, waiving all sanctioning fees and guest membership fees for USA Water ski & Wake Sports affiliated clubs that host basic skills learn to ski events from July 2–11, 2021, giving clubs the ability to better reach those who might not otherwise be able to participate.

Get on the Water Week is presented by Radar Skis and sponsored by Lake On, MasterCraft Boat Company, and Indmar Marine Engines.

Participants: Anyone who would like to learn to ski
Participants do not need any prior waterskiing experience to participate. The ability to swim is recommended but not required (each participant will wear a life vest).
In 2020 there were approximately 300 participants. The 2021 goal is 500 participants.
Cost: None
Dates: July 2 – 11, 2021
Location: USA Water Ski & Wake Sports affiliated clubs across the United States

In 2020 there were 28 participating clubs. The 2021 goal is 50 participating clubs.
Equipment: Presenting sponsor, Radar Skis, will provide ski equipment to the first 20 clubs who sanction to host. All clubs must provide their own ski equipment, boats, and fuel.
Instructors: USA Water Ski & Wake Sports clubs will provide USA Water Ski & Wake Sports certified volunteer coaches/instructors, safety personnel and boat drivers
Insurance: USA Water Ski & Wake Sports will "sanction" the clinics and provide all insurance coverage
Waivers: Participants and parents of minor participants will need to sign an event waiver
Club Info: https://www.sharelifeonthewater.com/gotw-info.html
Participant Info: https://www.sharelifeonthewater.com/skifree.html

2020 Participant Feedback Highlights:
"First opportunity I had ever heard of to affordably introduce my 8-year-old granddaughter and my husband to water skiing, which my granddaughter has taken to like a duck...both of them have now joined the local ski club!"

"Having an event like this in our area was great. For a first-time skier, this was a great opportunity for our son to learn a new sport."

"The kids had fun and it gave them an opportunity to try something new."
"Loved this opportunity...just happened across it in a Things to Do this weekend in Worcester email list I'm on...has turned out great and something we are now actively getting involved in with the local ski club."

COVID-19 Note: Individual water ski activity is considered low risk for COVID-19 transmission; however high risk individuals, including older adults and people with pre-existing medical conditions (such as asthma, diabetes, heart disease) appear to be more vulnerable to becoming severely ill with the virus and are recommended to avoid sanctioned activity involving groups at this time. Each hosting club is responsible to ensure that social distancing in their area has been lifted to an appropriate phase for this event. Click here for guidelines. USA Water Ski & Wake Sports is continuing to monitor CDC and federal guidelines daily as well as staying up to date on USOPC recommendations.
Safe Sport Note: Upon sanctioning approval, all hosting clubs are instructed to review and familiarize themselves with the current MAAPP (Minor Athlete Abuse Protection Policy) as mandated by the U.S. Center for SafeSport.