From The Vault: 2011 Masters
Editor's note: This article first appeared in the July/August 2011 issue of The Water Skier magazine.
Welcome To The Club
Jonathan Travers etched his name among some of the sport's all-time greats by winning the men's slalom title, his first professional tournament victory, at the 52nd Masters Water Ski Tournament, presented by Nautique, May 28-29, 2011, at Callaway Gardens in Pine Mountain, Ga.
"The road of life twists and turns and no two directions are ever the same. Yet our lessons come from the journey, not the destination."
– Don Williams, Jr., American Novelist and Poet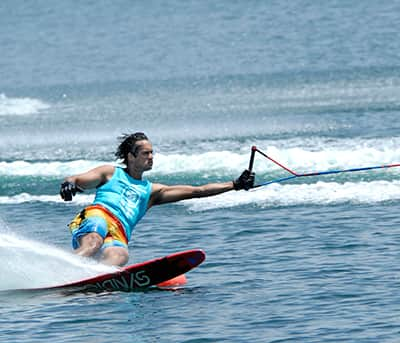 Jon Travers was 3-1/2 months old when he attended his first Masters as a spectator in 1988; 18 years old when he qualified to compete in his first Junior Masters in 2006; and 20 years old when he qualified for his first Masters in 2008. He has attended the annual Memorial Day weekend water ski extravaganza in rural, picturesque Pine Mountain, Ga., almost every year over the course of the past two decades. But it could be argued that he hadn't really arrived until this year. The journey has been a long one, but rewarding nonetheless.
At the 52nd Masters Water Ski Tournament, presented by Nautique, May 28-29, on Callaway Gardens' famed Robin Lake, Travers, 23, won the first professional tournament title of his career, scoring 4-1/2 buoys at 39-1/2 feet off in winning the men's slalom event. His name is now etched forever alongside iconic past Masters' slalom champions such as Joe Cash, Kris LaPoint, Carl Roberge and Andy Mapple. "Those are some really old names, but in my house slalom icons," Travers replies when reminded of the depth of his momentous victory. "I will have to work really hard and win more Masters' titles to be in the same league as those great slalom skiers."
Travers won the Masters, one of the most prestigious tournaments in the sport, after earning a berth in the tournament based on his performance at the 2011 Masters Last Chance Qualifier, May 20-22, at Sunset Lakes in Groveland, Fla. At the Masters Last Chance Qualifier, Travers, needing a score of 3 buoys at 41 feet to qualify for the Masters, tied his personal best score of 4 buoys at 41 feet off – that he set a week earlier – to emphatically punch his ticket. "In the weeks before the last chance qualifier, I just tried to keep my focus," says Travers, who qualified for his first Masters in 2008 via the LCQ. "I skied back-to-back 39s and worked on my 41 pass. I had skied 4 at 41 at the Florida Inboards Open the weekend before so I was confident that I could run deep into 41. The score to get in is really high. If you can match it you are skiing really great at the moment, so the possibility is there if things fall into place for you at the event."
The elimination round in men's slalom at this year's Masters proved to be one of the most exciting and competitive rounds in the history of the event. Canada's Jason McClintock was first off the dock and set the bar high with a score of 1 buoy at 41 feet off. Travers followed with 2 at 41 off, and then watched as New Zealand's Aaron Larkin, Italy's Thomas Degasperi and U.S. athlete Jamie Beauchesne each scored 2 at 41 off to set up a four-way run-off for three spots in the finals. Great Britain's Will Asher, seeking to win his fourth consecutive and fifth career Masters' slalom title, earned the top seed with a score of 2-1/2 buoys at 41 feet off, while U.S. athletes Chris Parrish (5-1/2 at 39-1/2 off), Chris Rossi (5 at 39-1/2 off) and Nick Parsons (3-1/2 at 38 off) came up short in their efforts to advance. "I have been to so many Masters, and I know it usually takes deep into 39 to make the finals, so that was my game plan before Jason went out to ski," says Travers, who also qualified for the 2009 Masters by way of the International Waterski & Wakeboard Federation's elite rankings' list, but had never advanced to a Masters' final. "After Jason ran 39, I thought the lake was skiing really well so I was just going to run it like at Sunset. I often practice opting up and starting at 38 or 39. It is never easy, but because Dad has taught me to practice that way, I have confidence that I can do it when the push comes."
In the subsequent run-off, Travers and Degasperi each cleared the 39 pass, and then battled their way to 3 at 41 off. Larkin and Beauchesne tied with 1-1/2 at 41, resulting in a two-way run-off for the final spot, which Larkin snared with a score of 1 at 41 to Beauchesne's 4 at 39-1/2. "It was just an incredible event," Travers says. "Nothing compares to the feeling of skiing against that kind of field of competitors."
In the finals, Larkin set the pace with a score of 3 buoys at 39-1/2 off. Travers followed with 4-1/2 buoys at 39-1/2 off after turning 5-ball a little too hard. "I thought at that moment that I would at least finish third, and I could have been happy with that," Travers says. "[I thought] for sure [Degasperi] and [Asher] will go further down the line. After the elimination round I knew they could go further and I was disappointed in myself that I did not go a little bit more." But Degasperi, who managed just 2-1/2 buoys at 35 off, and Asher, who shockingly went down at 3-ball to finish with 2-1/2 buoys at 39-1/2 off, could not get any further down the line. Moments after Asher hit the water, Travers took a celebration plunge into Robin Lake to thunderous applause from the spectators. He had reached his destination: Masters Champion. "After T-gas fell I was really excited to be in second place," Travers says, "but nothing can compare to being in first. Will was in the same position last year with Jamie going out last, and he won the same as me. At Robin Lake or anywhere it is just about getting the most buoys that day, and everything fell into place for me in the finals."
Travers says the key at both the LCQ and the Masters was simple – keep it simple. "I zoned out on everything except six buoys," he says. "I just stayed focus and just skied buoy-to-buoy. I did not think about the full pass. That works for me, and I am going to keep with my routine of a little warm up, gate, six buoys, and a gate."
Meanwhile, the victory set off a fury of emotions for Travers. He is part of a tight-knit family that includes his dad, a.k.a. legendary water ski coach Jack Travers, mom, Lelani, and brother, Chris, in addition to the dozens of skiers – past and present – that have trained at International Tournament Skiing and Sunset Lakes over the years. "I have always dreamed to be in that situation," Travers says of his triumph. "I have driven to the Masters and back so many times with my dad's junior and open skiers with plates and medals, and saw and know how proud dad and mom were of them. It is impossible to explain how pumped I am to have made my parents so happy, and to see my dad so proud of me and my accomplishments."
Fellow U.S. athletes Freddy Krueger and Jimmy Siemers also won titles in respective events.
Krueger continued his domination of the men's jumping event at the Masters, winning his seventh consecutive and 10th career title on Robin Lake. "After the slow start at Moomba, this was a very important win for me," says Krueger, who finished fourth at the season-opening Moomba Masters in March in Melbourne, Australia. "But honestly, anytime we have one of the jumpers get injured it takes a bit away from the moment. We lost Igor [Morozov] to a knee injury in Perth and for this to happen to Jaret [Llewellyn] again this year was just unbelievable. We all know it is part of the game, but it doesn't make it any easier when it happens."
Llewellyn, who missed all of last year after injuring his knee at the 2010 Masters, returned this year and tied Krueger with a 221-foot jump in the elimination round. But he tweaked the knee on his second of three attempts in the finals and did execute his third jump. He finished fourth with a 212-foot effort. "He took precautionary measures," says Canadian coach Steve Bush. "Everyone felt bad because he was making such a strong comeback."
Krueger, meanwhile, needed just one jump – 229 feet – in the finals to clinch the title. Canada's Ryan Dodd was second with a 221-foot jump and Great Britain's Damien Sharman was third at 212 feet. "We got lucky and the conditions were the same on both days," says Krueger, who lives and trains in Winter Garden, Fla. "That let me know I could trust what I felt the day before and I really just tried to pick up in the finals where I left off in the elimination round. I was a little slow coming into my turn, but I just trusted that I would get to the jump so I went ahead and committed to my turn and made sure I started easy so I could finish aggressively and get my lift. Luckily it all worked out."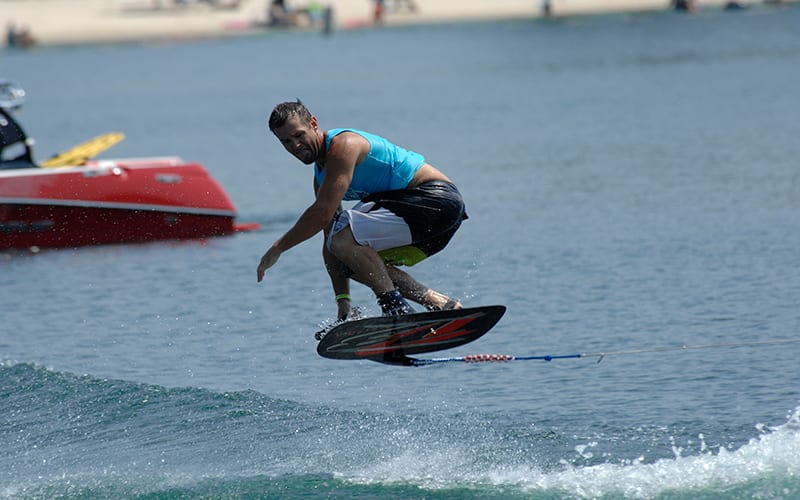 Siemers, who recently moved from Arizona to Florida to live and train, won his fourth career tricks title at the Masters, tallying 11,730 points in the finals. France's Alexandre Poteau finished second with 11,320 points, followed by Belarus' Aliaksei Zharnasek with 10,620 points and Llewellyn with 10,560 points. "My goal in the elimination round was to successfully complete my stock run of 11,400 points," says Siemers, who grabbed the top seed for the finals with a score of 11,490 points in the elimination round. "It's not my most difficult run, but it's still challenging. This year, the competition is fierce and the level of trick skiing is being upped. Although I would have loved to have attempted a larger point run, I felt it would be better to run a more conservative pass that I knew I would complete to secure my position in the finals and possibly give me the top seed. It worked!
"Surprisingly, in the finals my strategy never changed. I knew all three competitors were capable of winning and my strategy remained the same. I knew I only needed to successfully complete a conservative run and not risk it. I played defense, but was a bit faster with a few more little tricks than the prelims."
Belarus' Natallia Berdnikava won her second career Masters' women's jumping title, soaring a course record and personal best 182 feet. Australia's Jacinta Carroll was second with a 179-foot jump (a course record until Berdnikava broke it), followed by U.S. athlete Regina Jaquess (163 feet/49.8 meters) and Denmark's Maj Lund-Jepsen (163 feet/49.8 meters).
Canada's Whitney McClintock won women's tricks for the third consecutive year, tallying 7,750 points in the finals. Berdnikava finished second with 7,410 points. France's Iris Cambray, who earned the top seed for the finals with a course-record 8,790 points in the elimination round, placed third with 4,700 points after an out-of-course fall between passes, and U.S. athlete Mandy Nightingale was fourth with 3,800 points, falling early in her first pass.
Australia's Karina Nowlan won women's slalom for the second time in three years, scoring 3 buoys at 38 feet off in the finals. U.S. athlete Karen Truelove was second with 2-1/2 buoys at 38 feet off, followed by France's Anais Amade with 1-1/2 buoys at 38 feet off and Jaquess with 1-1/4 buoys at 38 feet off.
Three U.S. water ski athletes – Makayla Haw, Erika Lang and Lauren Morgan – won titles in respective events at the 19th Junior Masters Water Ski Tournament.
Haw, of Rio Linda, Calif., won the junior women's slalom title, scoring 1 buoy at 38 feet off in the finals. "It was probably the best feeling I have had so far in my skiing career," says Haw, who won junior women's slalom at the Junior Moomba Masters in March. "One of my goals I set for this year was winning the Junior Masters. Being top seed in the finals put some pressure on me, but I tried to keep calm while I was skiing. I was filled with excitement when I stood up around one ball and won! It was the best feeling waving to everyone on the Pavilion." Fellow U.S. athletes Brie Carter and Kara MacIntyre finished second and third, scoring ½-buoy at 38 feet off and 2-1/2 buoys at 32 feet off, respectively. Haw was the only athlete to run the 35 off pass in both rounds, earning the top seed for the finals with a score of a ½-buoy at 38 feet off. "In the elimination round I tried to put a score out there high enough to where I would get in and be top seed," she says. "In the finals I knew what I had to do to win because I was top seed. As I was at the end of the lake shortening the rope to 35, I was just breathing and trying to stay focused because I had to get through this pass. The beginning of the pass was sweet, then at 5 ball I safety turned and was a bit late to 6 and luckily got out of the gates. All I had to do was stand up around 1 ball and I would win. As I got up and pulled out for my gates I told myself to stay calm because I tend to crank the turn when I'm nervous, but I held onto the slack and skied back to the wake."
Lang, of Gilbert, Ariz., won the junior women's tricks title for the second consecutive year, scoring a course-record 8,420 points in the finals. Germany's Giannina Bonnermann finished a distant second with 6,790 points and Italy's Alice Bagnoli was third with 5,820 points. "It was an amazing experience to hold my titles two years in a row," says Lang, who is quick to credit her coach of the past several years, Jimmy Townsend. Lang broke her own course record of 7,670 points in the elimination round with a score of 8,100 points to earn the top seed for the finals. "Breaking my own course record and bumping up the score gave me confidence that I am improving each year," Lang says. "I've been working on a new run this year and to be able to stand up both rounds was my goal."
Morgan, of Odessa, Fla., won the junior women's jumping title, soaring 146 feet in the finals. U.S. athlete Brittany Greenwood came in second with a 142-foot jump, and Haw was third with a 135-foot effort. "My jumping in the finals was enough to win, but I wanted more," says Morgan, who won the same title in 2009 and was competing in her last Junior Masters. "The wind was up and down the whole set, and I just could not get free of the boat, so my distance relied mostly on my kick."
Other water ski athletes winning titles in the Junior Masters were: Australia's Tim Bradstreet, who won junior men's tricks with 9,300 points, jumping with a course-record 199 feet, and overall with a score of 2,954.8 points; Italy's Brando Caruso, who won junior men's slalom with a score of 5-1/2 buoys at 38 feet off; and Bonnermann, who won the junior women's overall title with 2,649.7 points.
Scott N. Atkinson is the Senior Director of Communications & External Relations for USA Water Ski & Wake Sports and editor of The Water Skier magazine, the official publication of USA Water Ski & Wake Sports.