Member Spotlight: Erin Kalkbrenner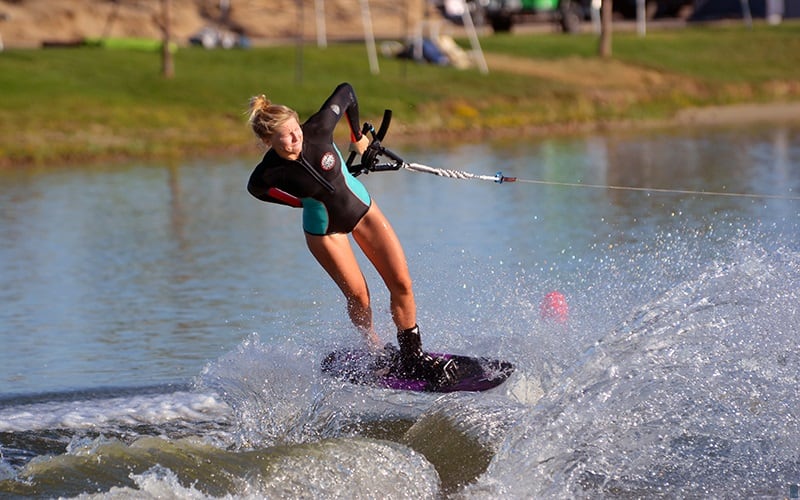 Like so many other athletes, coaches and officials in the sport, water skiing has taken Erin Kalkbrenner all over the world. In February, Kalkbrenner's accomplishments over the past decade led to her induction into the Missouri Sports Hall of Fame.
Kalkbrenner, 37, joined The Roper Racing Family, amateur golfer Wayne Fredrick, angler Rick Emmitt, tennis player and coach Jim Klousia, fishing media's Don Berry, horse trainer Geno Middleton, and Lincoln University track and field coach Victor Thomas as a 2021 inductee on Feb. 25 at the Missouri Sports Hall of Fame's second annual Outdoor Sports Luncheon, presented by the Ozarks Coca-Cola/Dr. Pepper Bottling Company, at the Oasis Hotel & Convention Center in Springfield.
Kalkbrenner has won 14 national water ski titles, plus holds two Missouri state water ski records. The Kansas City native won national titles in the Women 1 division in 2009 and Women 2 division (ages 25-34 inclusive) in 2012, 2014, 2015, 2016, 2017 and 2018. She holds the Missouri State Women 1 (ages 18-24 inclusive) jump record of 119 feet, set in 2009. She also established the Missouri State Women 2 tricks record of 3,890 points in 2012.
In 2013, Kalkbrenner was diagnosed with leukemia. Following weeks of chemotherapy and radiation, she received a stem cell transplant; her sister was her donor. Today, she is symptom free and remains as active as ever as a water skier, coach and triathlete.
In 2019, Kalkbrenner was named USA Water Ski & Wake sports' Volunteer Coach of the Year. In recent years, she and her husband Cole have been members at Mystic Lakes Ski Club near Wichita, Kan., with the site hosting several major events, including the 2018 GOODE Water Ski National Championships and the upcoming 2022 GOODE Waterski National Championships. Kalkbrenner was recently chosen to serve as manager for the 2021 U.S. U21 World Water Ski Championships Team and 2021 U.S. Pan American Water Ski Championships Team.

Vital Stats
My Boat: Ski Nautique

My Skis: D3

My Favorite Ski Sites: Mystic Lakes, Maize Kan.; Pentalago, Palm City, Fla.; and Stoney Park, NSW, Australia

My Tournament PBs: 4 at 35 off, 4,080 points, 141 feet

My Water Ski Idol: My grandmother, Francile Hill

My Pre-Ski Ritual: Good night rest before, lots of movement and stretching before my event, listening to music and visualizing technique while gearing up, and keeping a pleasant and laid back attitude on the dock are key!

My Greatest Accomplishment in Water Skiing: Winning my first Nationals was an amazing experience as well as competing at several night jumps. I have also loved being coach and manager of both the Australian U21 World Team and the U.S. U21 World Team and am lucky to be able to have this opportunity again this year.

My 2021 Goals: Run 35 off in a tournament, trick 4,200 points, and jump 150 feet!

If you know someone who you would like to see featured in the Member Spotlight, email satkinson@usawaterski.org.
Scott N. Atkinson is the Senior Director of Communications & External Relations for USA Water Ski & Wake Sports and Editor of
The Water Skier
magazine.